Duke's Mechanical Engineering and Materials Science departments offers an accredited B.S.E. degree with a major in mechanical engineering. We recently launched new undergraduate certificate programs of specialization in Aerospace Engineering, and Energy and the Environment.
Our curriculum capitalizes on the exceptional abilities of our highly select students to cultivate the learning, thinking, and problem-solving abilities needed to adapt, to develop, and to exercise responsible leadership through times of rapid change. The program provides firm preparation in the essential engineering topics while allowing wide flexibility for students to pursue their own specialized interests, including hands-on research and independent study, dual majors in engineering, the sciences and liberal arts, and study abroad.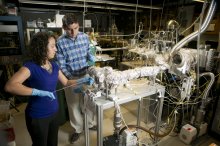 Our goal is to graduate mechanical engineers who embody excellence in a broad sense. We expect our graduates to advance within industry positions or in graduate study, or to carry the attributes of an engineering education into other disciplnes.
The mechanical engineering program of study must include mathematics and basic sciences, fundamentals and applications in several engineering sciences, and team-based experience in the process of design, where theory is applied in the context of real needs and limitations, and where judgment must be exercised.
Our mechanical engineering graduates should be able to think critically when solving problems and managing tasks and communicate effectively in multi-disciplinary professional environments.
To be a responsible member of the engineering profession, each graduate must be aware of social, ethical, environmental and economic factors and constraints on engineering activity, and must understand the importance of these matters in a global context. We aspire to have our graduates exhibit intellectual depth and creativity, uphold high ethical standards, and show a commitment to the betterment of society through service and professional work.
To this end, the specific Program Educational Objectives that we look for in our graduates are that they:
Advance professionally in their chosen field
Contribute to their professional community and to society