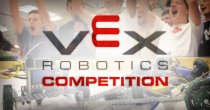 The VEX Robotics Competition provides students with a hands-on, co-curricular competition for learning about science, technology, engineering and mathematics (STEM). The nature of this event is to instill an interest in robotics in a fun and exciting environment. The VEX Gateway playing field consists of a 12'X12' square field filled with strategically placed barrels, balls, and goals. Teams are paired into what are termed "alliances" one red and one blue. Teams compete in a round consisting of two sections a 20 second computer programmed autonomous period followed by two minutes of driver controlled play. Teams score points by scoring their corresponding color barrels and balls in goals. Teams can also earn bonus points with a white or black barrel to double points within a goal or negate the opponents' points within a goal.
An over view of the program can be found here: .
Robots can be built from any single or combination of VEX robot kits, however, all robots must be able to pass the Robot Inspection Guidelines and Robot Inspection Checklist specified for the event.
The Liberty University School of Engineering offers a yearly VEX Regional Robotics Competition usually held in March each year. The event is open to any team of high school students within Lynchburg's Region 2000, which includes all high school age students from public, private, and Christian high schools, home school students, and organizations directed at high school age youth.
Please contact SECS at (434) 592-7150 or secs [at] liberty [dot] edu with any questions or to request more information about the Liberty University VEX Robotics Competition.
To learn more about the VEX Robotics Competition, view a video located on the Future Focus Foundation YouTube Channel of the final championship round at the 2012 Liberty University Regional VEX Robotics Competition.